The Active School Flag is a Department of Education and Skills initiative supported by Healthy Ireland. The Active School Flag is awarded to schools that strive to achieve a physically educated and physically active school community. The process aims to get more schools, more active, more often. Our challenge will be to find interesting and exciting ways to energize the school day because active children are happy learners!
Research shows that all children require 60 minutes of moderate to vigorous physical activity every day. It is the shared duty of parents and schools to encourage children to be active. Research shows that 80% of Irish children do not reach this daily target.  As a result the Department of Education and Skills supported by Healthy Ireland have established the Active School Flag initiative.

Please keep an eye on the website for updates on how we have been getting active in school! Also, we know that parents have some brilliant ideas on how we could increase physical activity levels of our children. There will be a suggestion box located at the main office in the school soon if you would like to share your ideas with us or else contact Ms McDermott.
PE Policy
Please click on the above link to read our P.E. Policy, which we as a staff created for the pupils in our school.
We identified our vision for all the children 'to support the children in our school to achieve their potential, to the best of their ability, through an engaging and enjoyable teaching environment. Through our school's Physical Education programme, we aim to help pupils take an interest in physical activity during their free time, at home, in the community and at school. We recognise the role of Physical Education in providing children with a truly balanced and child-centered active education.' 
We also established key aims:
to promote the physical, social, emotional and intellectual development of the child

to develop positive personal qualities

to help in the acquisition of an appropriate range of movement skills in a variety of contexts

to promote understanding and knowledge of the various aspects of movement

to develop an appreciation of movement and the use of the body as an instrument of expression and creativity

to promote enjoyment of, and positive attitudes towards, physical activity and its contribution to lifelong health-related fitness, thus preparing the child for the active and purposeful use of leisure time.
Partnerships
Faughart Community National School is very proud to work in partnership with other agencies promoting active and healthy bodies.
Healthy Promoting Schools

Louth GAA Sports Partnership 

Roche Emmets GAA

Leinster Rugby
Active News - March 2021
This month we have been focusing on developing the fundamental movement skill of balancing within the dance strand. All classes have enjoyed exploring, creating and preforming different styles of dance including folk and Irish dance.
On March 26th we came together as a whole school community to preform 'Jersualema'.
This month we elected an Active School flag committee, compromising of one pupil from 1st - 6th class. The students will work alongside Ms McDermott to plan, organise and lead various initatives throughout the school year. 
Cheiliúramar Seachtain na Gaeilge agus lá fhéile Padráig mar scoil iomlán le paráid sa chlós.
Caith gach dúine eadaí glasa agus mháirseálamar timpeall fhearann na scoile. Ina dhiadh sin ghlacamar páirt i babhta traenála agus bhain na daltaí an taitneamh as.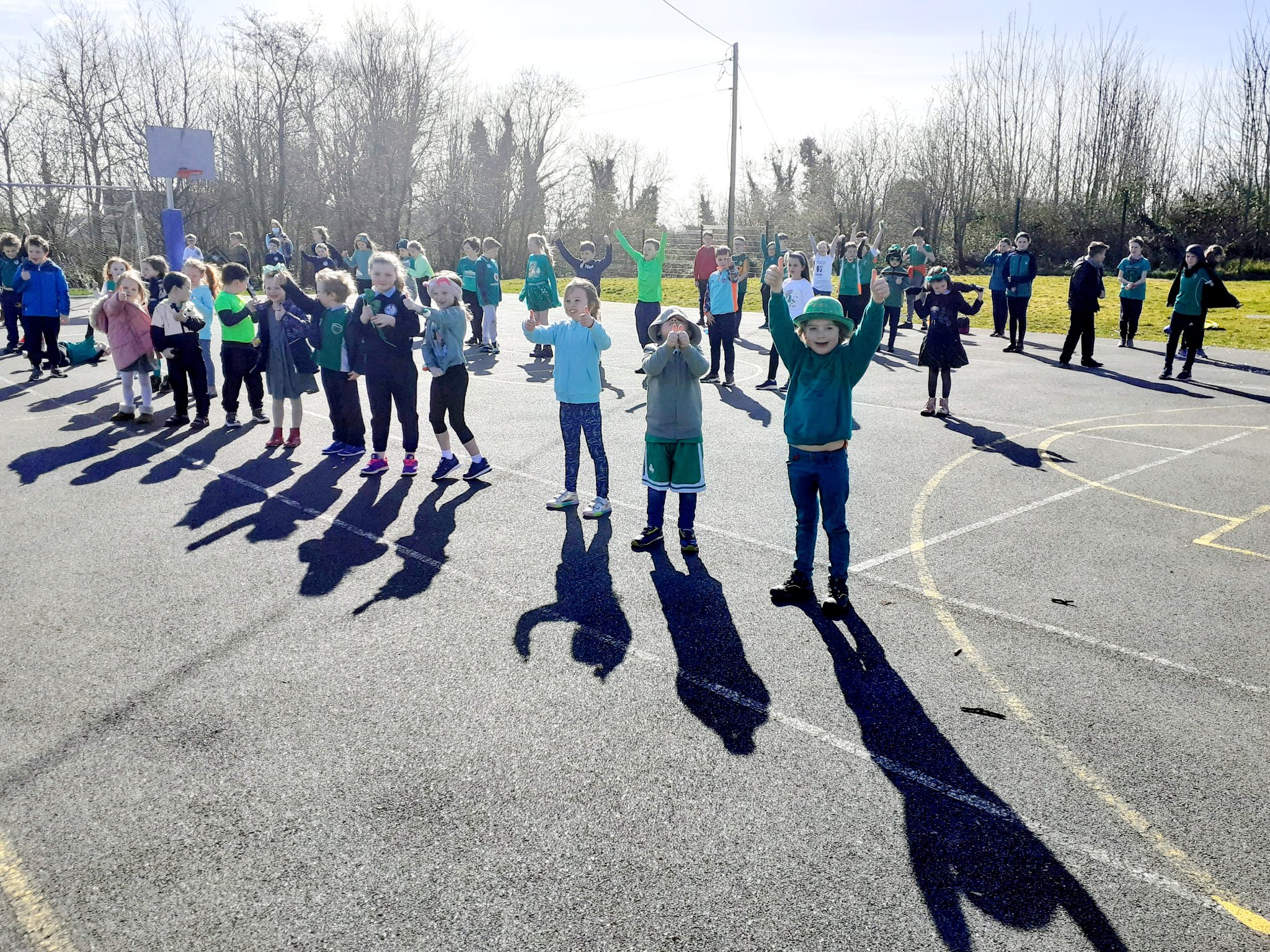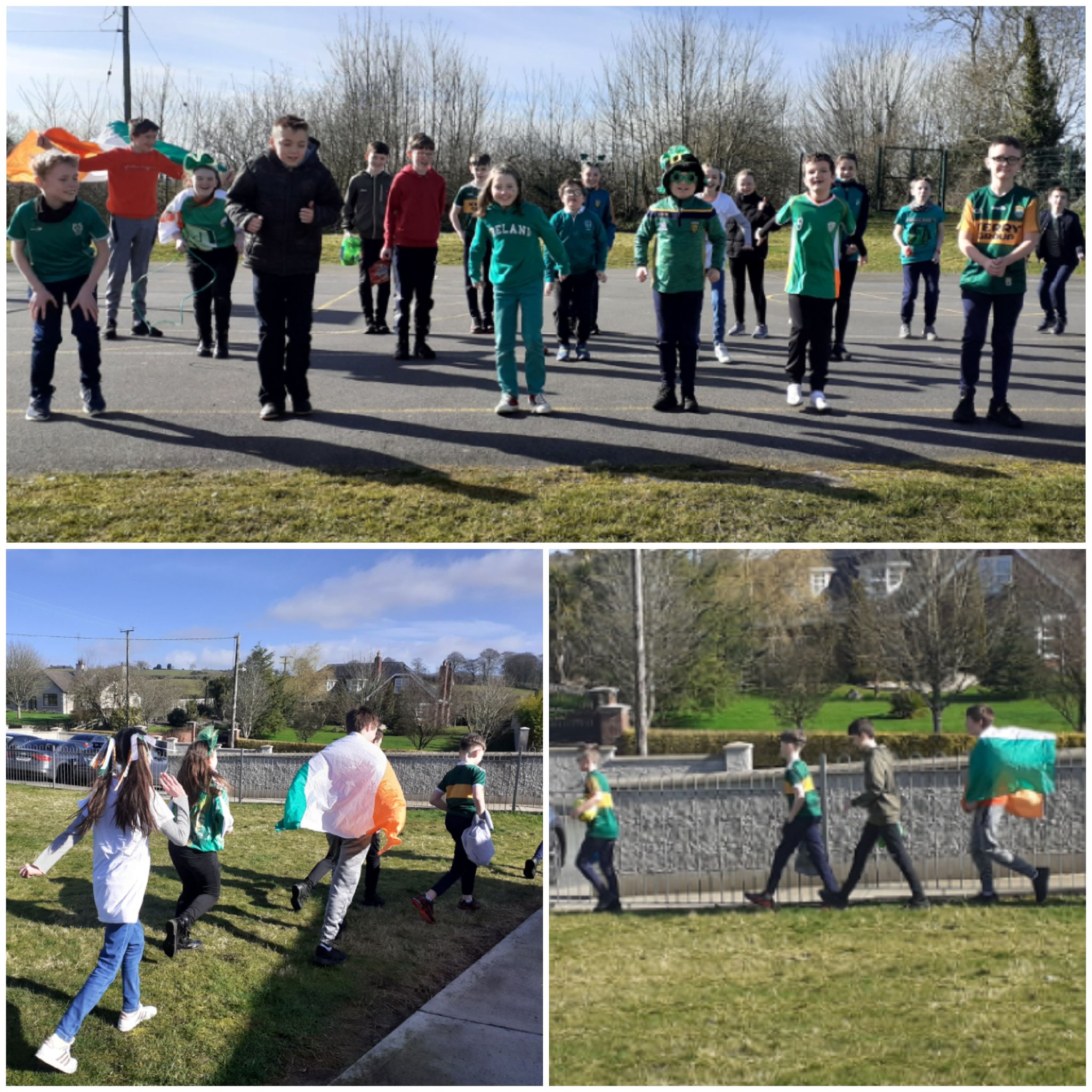 Active News - December 2020
We celebrated the end of another busy term with bells and baubles in our Santa dash.
Active news - November 2020
The 'Active break a day' challenge started on Monday November 9th and ran for four weeks until December 4th. Teachers choose from a combination of both indoor and outdoor activities to facilitate one active break each day.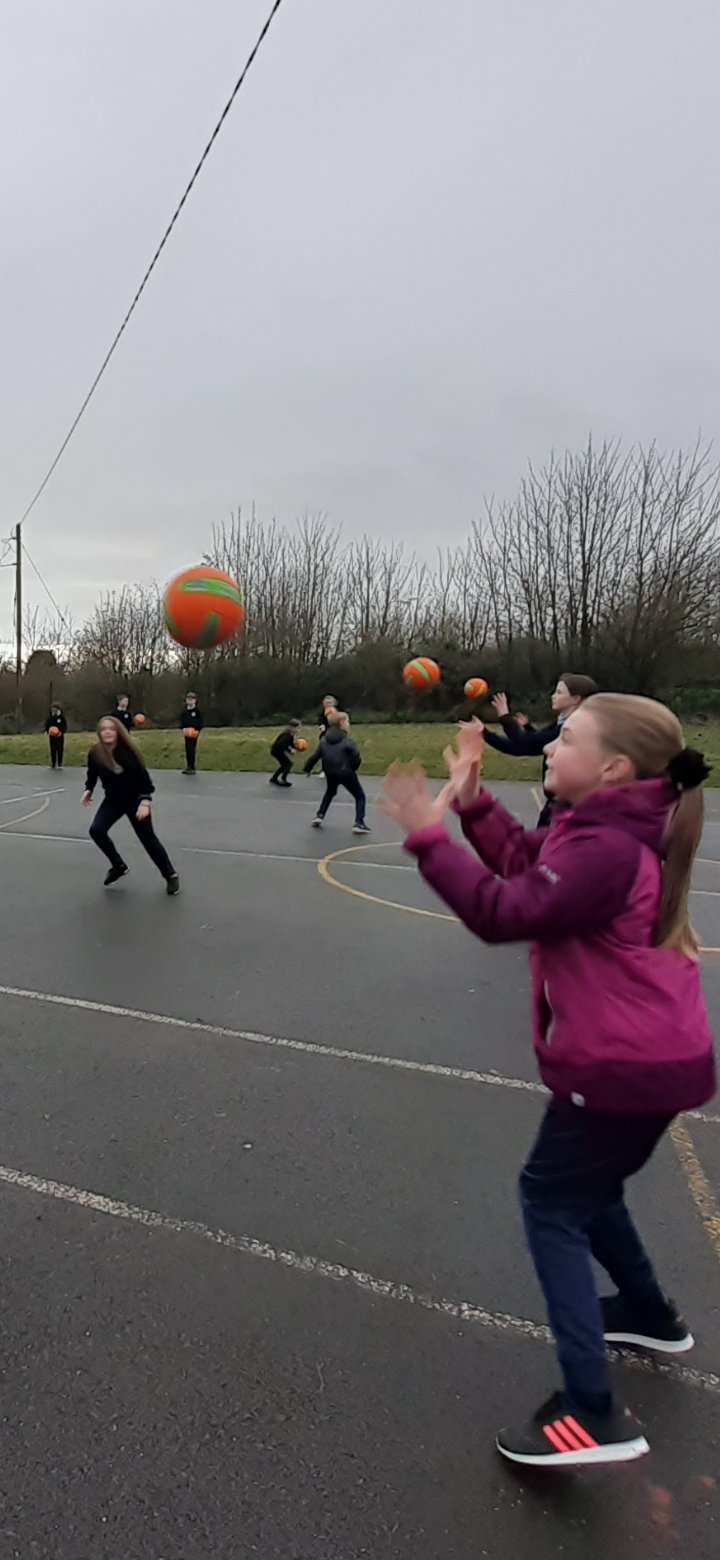 Active news - October 2020
Ghouls and goblin descended on the school yard as we hosted a beastly banquet and a devilish Halloween danceathon. This annual fundraiser raised much needed monies for the development of raised planting beds. A huge thank you to the parents association for all their hard work in decorating the yard and organising the raffle. 
Active news - September 2020
The junior yard received a fresh coat of paint in preparation for pupils return to school this month. Many thanks to our wonderful caretaker Paul for brightening up the tarmac. Hop, skip, JUMP!
Active home week 2020
Oh! Make way! Faughart CNS are on their way!
Click to watch your team video below
'Active home week 2020' schedule
Have a look at some of our wonderful students completing the challenges throughout this week.  
Congratulations to all who participated in 'Active week 2020'. Next stop, Tokyo 2021!